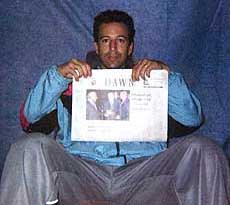 "When journalists are deliberately shot, blown up, taken hostage, or imprisoned for simply doing their jobs, that's a crime. When these violations against journalists are committed in an armed conflict, they constitute grave breaches of the Geneva Conventions – they are war crimes," says
Amnesty International
.
In February 2002 journalist
Daniel Pearl
was kidnapped in Pakistan and murdered for no other reason than his job. 2006 was a year in which killings of reporters and media staff reached historic levels with at least 155 murders, assassinations and unexplained deaths, according to the International Federation of Journalists.
On 23 December, the UN Security Council adopted a resolution in which it condemned intentional attacks against journalists, media professionals and associated personnel in situations of armed conflict and called upon all parties to put an end to such practices.However, around the world, whether in war or in peace, too few states take their obligations seriously. In situations of open conflict, such as in Iraq and Afghanistan, rather than offering protection from the serious dangers journalists face, the authorities restrict their ability to report freely.
Journalists are often seen as an irritation – they publish stories that embarrass governments, they give coverage to the opposition and to campaigners, they expose human rights violations and other abuses of power. While individual journalists themselves might not be dissidents, the fact that they write about dissent and the issues that cause strife makes them targets of governments who want to suppress that same dissent.
As a writer, a lover of information, and a believer in human rights, I worry about the safety of
the men and women who risk their lives every day to tell us the truth about what is happening in the world. Governments have their own agendas. People who seek power will manipulate the local media but a freelance photo journalist or a war correspondent can break through the propaganda to show us reality.
Their dedication is fierce. Take for example, John D. McHugh, a British photojournalist who returned to Afghanistan six weeks after being shot in an ambush.
"
I was hooked on the story in Afghanistan
. Not the danger or adrenaline, as many suppose, but the story itself. I could see that the reality on the ground was very different to the story being told back in the west," says McHugh. "My photographs weren't getting published much, and the agency I worked for was not interested in sending me back there, but I had no stomach now for day-to-day press work in London. I wanted to be back in Afghanistan, reporting what I believed - and still believe - to be a hugely important story. "
We must demand that journalists are protected as civilians and afforded all their rights under the Universal Declaration for Human Rights. We should defend their right to report freely around the world without restriction or limited access. We should cry out collectively when one of these brave souls is taken hostage by a militant group and murdered on video, as was Daniel Pearl.
It is in the interest of truth and justice that we do so. Please look for other
Bloggers Unite
for Human Rights stories that will be posted all over the web today. As bloggers, we are using our collective voices to speak for those who cannot.