When I opened my email this morning there was a pleasant surprise waiting for me. My little drawing on One Million Masterpiece was chosen for inclusion in the OMM 2008 Calendar! My drawing is part of February. The category is love. How fitting, considering what I spend my mornings writing about. I posted my drawing on the sidebar so you can see it. So are you wondering yet what One Million Masterpiece is and how to buy one of these great calendars? Can you find my art in the snapshot below...lol...it's not easy. I'll give you a hint..it's 12 across, 7 down.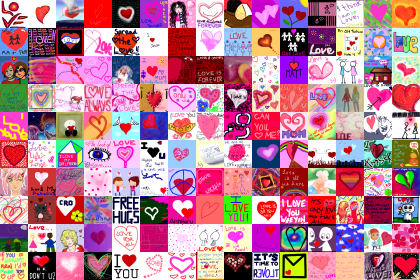 One Million Masterpiece was launched in 2006 with the goal of becoming a record breaking piece of collaborative art. One million people from around the globe would each be given a small square of the 80 meter by 30 meter finished product. They would use the adobe flash drawing tool provided on the site to create a work of art, doodle, whatever they wished. Then the completed art would be unveiled in London, UK on July 11, 2008 (World Population Day), as a sign of unity between people around the world.

Selling pixel space as advertising is not a new idea but the twist of using the concept for art and the betterment of mankind instead of profit is.
This ambitious effort is run by a group of volunteers who believe in the power of art not only to bring people together but to help change the world. Signing up for OMM is free but the staff hopes that you will upgrade your account to use the added features of the drawing board. When you do this the money is directly donated through their website to a charity of your choice. You can send the modest $6.50 fee to Save the Children Oxfam, ActionAid, World Cancer Research Fund, or the World Wide Fund for Nature.
At last update 27,123 artists are participating from 174 countries. That is a far cry from the 1 million needed to complete the project. The unveiling was scheduled for last July but has been postponed until 2008 in hopes that the target number will be reached by that date. As of May 2007, OMM had raised over $19,000 dollars for the listed charities. They hope to raise over 1 million by the completion of the project.
OMM is also an interactive community filled with active members. It's a social meeting place for artists and everyday people from the four corners of the globe. To quote the One Million Masterpiece website, "The One Million Masterpiece is an attempt to reunite people with art by turning an established relationship on its head. Instead of asking people to interpret the work of individual artists - we are asking the artistic community to embrace the collective work of every day people. Who is more qualified to deliver a message about our complex society than the people that live in it?"
I tend to agree but I found some people with descending views. They poo-poo the effort saying that it is nothing but chaos on canvas and that the world community will lose interest before it's completed, like a child with ADD. I say they are wrong and I'm proud to be part of history.
Go here if you would like to see a snapshot
of all the pages of the calendar. To
purchase an OMM 2008 Calendar go here
. All the proceeds will go to the OMM project to cover fees for producing the art. No one, artists or staff, are paid from these sales.
Join me and claim a square. You can sign up to make your own drawing. Be one of the million to reconnect with art and charitable giving.