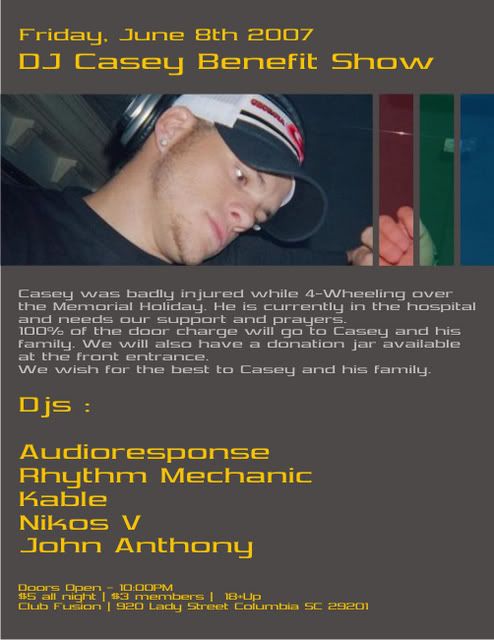 I am happy to report that my brother, Casey, is making a miraculous recovery with the help of many, many hours of prayer and the staff at Medical College of Georgia Hospital.
His fighting spirit has amazed everyone. Two days after his accident my family was gathering in preparation for a funeral and now we are celebrating each new day that Casey is still with us. Not only is he with us, he is struggling his way back to a normal life. His recovery is expected to be long and arduous but if anyone can do it Casey can.
During the days my husband and I spent at the hospital, we were amazed by the way Casey's friends have rallied around him. Someone stayed every night with his wife while she slept on a pallet of quilts folded in a dark corner of the waiting room. Brent and Julia organized benefits to help cover Casey's mounting medical expenses. Others rallied the local television and print media, pulling favors to have stories run about Casey's accident and the benefit fund that had been established in his name. Friends of Casey's mother organized a food-fest that will deliver food to her house for the next month. Chaplins and preachers from various churches visited to tell us that their entire congregations were praying for my little brother.
I'll never forget the look on the nurse's face when he explained how badly Casey was injured. "Imagine dropping a watermelon from head high. That's the effect on his skull and brain. He's a miracle. That's the only way I can explain it." He managed to grimmace and smile at the same time.
Casey's recovery is not the only miracle. His very existance in my life is just as miraculous. I met my baby brother when I was thirty and he was a wirey, rowdy, obnoxious sixteen. Our father had relinquished me as an infant to the state adoption system, the penance paid in the sixties by young people who found themselves expecting the unexpected. In 1996 after some searching, my birth family welcomed me with open arms as only the Carters and Leonards of Augusta can. It's the only way they know how to live, open and accepting of all life brings their way.
With the age difference and our circumstances, time together became a valuable commodity. Looking back, I'd give a fortune in gold for more. This time I studied him as if an A in Human Anatomy Class depended on my observation skills. I know the shape of each finger and the gentle feeling of his hand folded in mine. I'll never forget the exact placement of the shunt at his hairline or the color of the fluid draining from the tube. As his IPOD played in the background, I memorized a list of his favorite songs, everything from Nora Jones, Euro Club Music, to Elvis Costello. Listening felt like following an obscure trail, built with harmony and bass beats, along his emotional history. I listened intently and fought back tears as his friends and wife related stories about his crazy sense of humor and his incredible musical talent. Through this experience I know my brother better than if we'd grown up together and I'd shooed his little toddler butt out of my room as a teenager.
My family is extremely hopeful about Casey's future. The next time I go back it will be to see Casey at home with his children and wife. He'll spin some incredible tunes for me. We'll cook out in the backyard and laugh about the obsurdity of life and the incredible power of prayer and the human spirit.
Thank you to all who have read this blog and thought of Casey. Your prayers and positive thoughts are working. Much love and gratitude goes out to you.