In 1936
Jack LaLanne
opened the first fitness center in the United States. He encouraged people to eat healthy and exercise, especially strength training with weights. He was 40 years ahead of his time.
Can you believe that back then people thought he was a nut? Doctors told people that working out with weights would cause heart attacks and decreased sex drives. They told women they would develop manly physiques if they exercised too much. And coaches prevented their athletes from working out at the gym because it would cause them to be sluggish and muscle bound.
Wow..conventional wisdom and medical knowledge have finally caught up with LaLanne. Jack is 93 years young and people who know him say he's found the fountain of youth. Jack would probably say, "I can't die, it would ruin my image!" That's just one of the
LaLanneisms
quoted from the fitness guru's website.
Early in LaLanne's life he discovered that eating healthy and exercising were the keys to a long life. He developed his own techniques for muscle strengthening by studying Anatomy textbooks in a college pre-med program and attending chiropractic college. Instead of opening an office as a chiropractor, he opened a gym and began one a time converting ordinary people to his revolutionary thinking about lifestyle. When the coaches were saying no to lifting weights, LaLanne was giving out keys to his gym so athletes could sneak in to work out.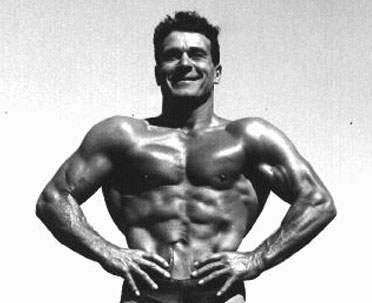 LaLanne is responsible for many firsts in the fitness revolutions. His inventions include: the leg extension machine and pulley machines using cables and the first weight selectors. He was the first to develop weight lifting programs for women and he also encouraged the disabled and elderly to exercise for health. "There are 640 muscles in the human body," Jack explains, "and I take every one of them into account as I plan each exercise routine."
Decades before Richard Simmons or Jane Fonda, Jack LaLanne inspired average Americans to get fit with his television show. I can remember as a small child, flipping through the channels and stopping to watch the man in the red jumpsuit do leg raises and lunges.
LaLanne is famous for his feats of strength. Several times he's swam over a mile shackled in chains and pulling a boat - sometimes several boats! For his
seventieth
birthday he swam handcuffed, shackled and fighting strong winds and currents, towing 70 boats with 70 people from the Queen's Way Bridge in the Long Beach Harbor, Ca to the Queen Mary, 1 ½ miles away!
Mr. LaLanne has been awarded most, if not all, of the national fitness awards and has his own star on the walk of fame in Hollywood, Ca. He's an inspiration to all who know him. He loves to play tricks on people. When he meets someone new he's been known to act deaf or feeble then spring at them with the energy of a lion, "Gotcha, didn't I!"
I can only hope to be as spry in my 90's and if I follow Jack LaLanne's example it's more than a hope, it's a real possibility.